GAF Timberline Solar™ Roofing System – What You Need to Know
by Michael Wilhelm on Feb 14, 2023 10:17:40 AM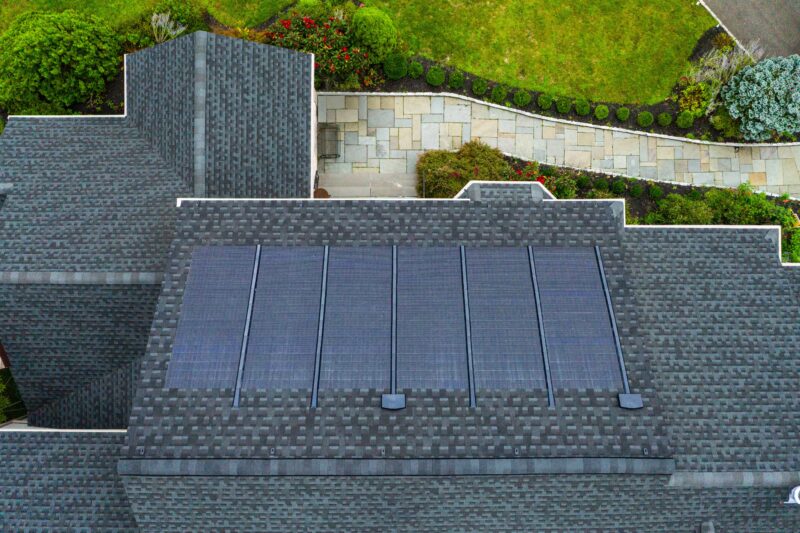 As the popularity of solar is increasing in Colorado, you may need help deciding if solar is the right choice for your home. As a GAF-preferred contractor, Holladay Grace is here to deliver everything you need to know about the GAF Timberline Solar™ roofing system.
Why Are Solar Roofing Systems Gaining So Much Traction?
To get started, let's dive into why many homeowners are considering switching to a solar roof system. Since 2003, home electricity prices have risen by 83%. For an average 3,000-square-foot home, energy bills have increased from $1,279 in 2003 to $2,340 in 2022!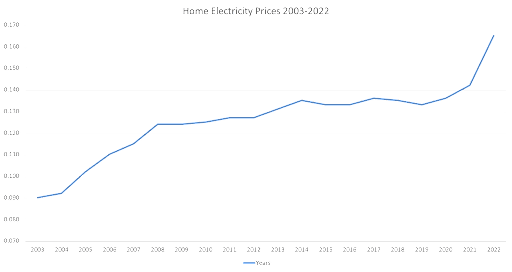 Graph data collected from the U.S Bureau of Labor Statistics
If energy prices climb at the same rate in the next 20 years as they did in the last 20 years, homeowners will be paying, on average, $4,291 for electricity in 2024 – nearly double today's cost!
Rather than continuing to ride the skyrocket north, savvy homeowners are taking back control of their energy costs and proactively switching to solar roof systems.
Introducing the GAF Timberline Solar™ Roofing System
With the increased popularity of solar roofing options in the United States, the engineers and designers at GAF have created the first nailable solar shingle as part of their GAF Energy Solar Roof system. Unlike traditional rack-mounted solar panels bolted to your home's rafters, Timberline Solar HDZ™ shingles are nailed directly to the deck and installed as part of your roofing system.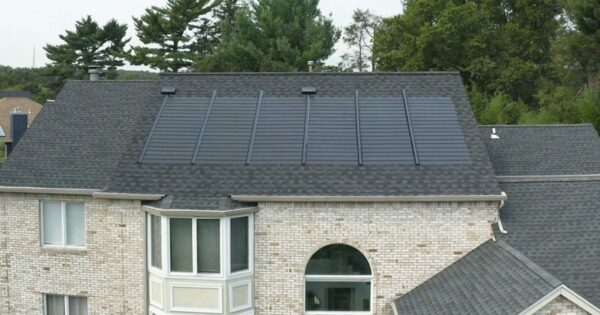 As part of the solar roof system, GAF redesigned its standard asphalt shingle to mesh seamlessly with the solar shingle by making the exposed asphalt section taller. Traditional asphalt shingles only have 5 ⅜" of exposure between shingle laps, whereas the new solar asphalt shingle adds nearly two full inches to the exposed asphalt portion.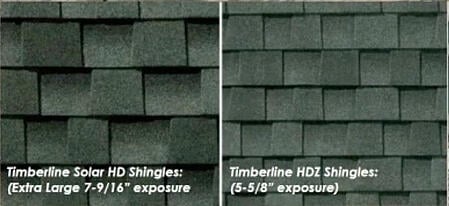 As a result of this new design, the solar shingles are only compatible with the new asphalt design. It provides a cleaner look and seamlessly integrates the solar and asphalt shingles of the GAF Timberline Solar™ roofing system.
And GAF's solar roofing system provides as much productive energy (KWh) as traditional solar panels. Aside from not being particularly attractive, solar panels are bolted to your roof (potentially over an older roof), creating up to 180+ additional penetrations that can leak and cause issues over time. In addition, since solar panels rise up off the roof, it can allow for animals, including birds, rodents, etc., to nest on your rooftop.
Solar roof shingles overcome these potential pitfalls and appear more like a regular roof. Big black glass panels installed independently of your traditional roof are no longer your only solar option. GAF Timberline Solar HDZ™ shingles integrate with the standard roofing shingles and are much more aesthetically pleasing, increasing curb appeal.
The roofing system comes in four of the most popular Timberline colors offered by GAF.

Benefits of the GAF Timberline Solar™ roofing system
We've identified six significant benefits of choosing the new GAF Timberline Solar™ roofing system for your home.
Eliminate or significantly reduce your monthly energy bill

Sell excess energy your solar roof produces back to the utility (through net metering)

Offset the cost of your roof replacement with utility savings and tax benefits

Foster energy independence – don't depend on the utility company to shape your family's budget

Increase the

value of your home

by as much as 4.1%

Produce clean, sustainable energy for your home
Drawbacks of the GAF Timberline Solar™ roofing system
The solar shingles integrate with your roofing system, which means you will need to perform a complete roof replacement when installing a Timberline Solar™ roofing system

Although we believe this system looks beautiful, some homeowners still do not like the look of the Timberline Solar™ system, as the panels are still noticeable.
Warranties
Warranties factor into more than your roof's longevity; they are also vital to solar and electrical systems. With traditional rack-mounted solar, you would need three separate warranties—one for the roof, one for the solar, and one for the electrical systems. Only one warranty is necessary with the GAF Timberline Solar™ roof system.
Holladay Grace offers the best solar warranty in the industry through our manufacturer partner, GAF – the Solar Max Warranty. You get 25-year coverage for 3rd party components and electrical workmanship; this warranty covers a solar production guarantee. We will guarantee an energy output level your system should meet based on the size and location of your home. If your system does not meet that guarantee, we will pay you back a percentage of the cost of your solar array equal to the amount it underperforms.

Large System vs. Small System
Choosing between a smaller or a larger system depends on your needs as a homeowner. With the rise in remote work-from-home jobs, you may want a small system to offset electricity consumption during the day. Conversely, if you own an electric vehicle, you may need a more extensive system to compensate for the energy usage from charging your car.
Usage and needs will differ from one homeowner to another. That's why looking at your current and future needs is essential when considering a solar roofing system.
Utility and Tax Benefits
Installing solar on your roof not only reduces your electric bill but has other significant benefits as well. Colorado residents can participate in "net metering" programs their local utility companies offer. In essence, net metering means that the utility will pay residents back for excess power produced over what's consumed or offer an energy credit that can be rolled over from one year to the next – depending on the size and output of your solar roof, the utility company may pay you for your excess energy!
You can also receive tax benefits based on a percentage of your system. This tax benefit, given to homeowners as a tax credit, may cover up to 30% of the cost of your new roof. Depending on the size and output of your solar system, this tax benefit means your solar roof may cost LESS than a traditional roof to install.
Holladay Grace and GAF Energy
As one of the top 2% of roofing contractors in the United States, Holladay Grace Roofing has been a trusted name in the roofing industry across the Front Range since 1979. With the release of the GAF Timberline Solar™ roofing system, the GAF Energy team selected Holladay Grace as the first Colorado Springs roofing contractor to be a GAF Energy Certified Contractor.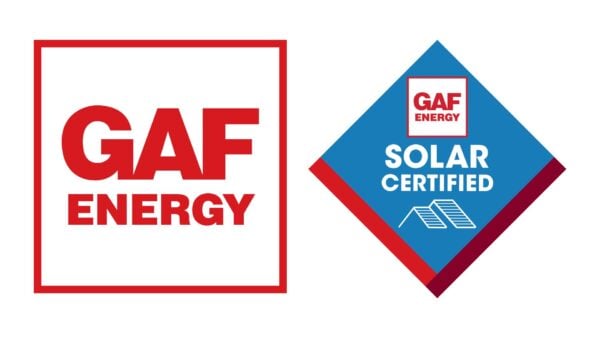 Find Out if a GAF Timberline Solar™ roof system is right for you
Since 1979, Holladay Grace has handled every project as if it were our home. Are you local to the Colorado Springs community and contemplating whether or not to switch to solar? Fill out this form, and a qualified solar installer will reach out to you and see if solar roofing is right for you.
Solar FAQs
With any new technology or process, there will always be questions. Below is a list of FAQs that customers have found helpful.
Will I save money by installing solar with a new roof?
Solar panels can generate energy any time of year, as long as the sun is shining, to help save you money. When you generate more energy than you use during the summer, you'll receive net metering credits to use during the winter to help keep your electric bills lower all year long. Homeowners with solar enjoy checking their smartphone app to see how much energy they make on their roof.
The panels don't have any moving parts, so the only required maintenance is keeping them clean so they can produce plenty of energy and save you money. Contact us today to see if a solar roof is right for your home if you need a new roof. Why worry about managing two home improvement projects at the same time? Get solar with a new GAF roof.
How much does a solar roof cost?
Pricing of Timberline Solar™ for the average home varies based on several factors, including the size and slope of the roof, the shading around the home, and how much sunlight reaches the roof throughout a typical day. A Timberline Solar™ roof is designed to be affordable and is typically comparable to a new roof plus traditional rack-mounted solar. Timberline Solar™ is currently available for residential installation and may be available for commercial buildings in the future.

Are solar shingles as efficient as panels?
Due to the unique design of Timberline Solar as a complete roofing system, efficiency cannot be calculated in the same way as a traditional solar panel. The ES is made from the same high-efficiency mono PERC cell technology found in Tier 1 solar panels. Timberline Solar™ may fit more kW per roof than traditional solar panels depending on a home's specific roof geometry.
What are the benefits of solar shingles compared to rack-mount solar panels?
Timberline Solar™ is the first true solar roof on the market. It incorporates the world's first nailable solar shingle, which roofers can install as easily as regular roofing shingles with only a nail gun. The benefit of this roof-integrated solar system is its seamless, waterproof installation that mimics traditional shingle installation. With most residential solar systems on the market using rack-mounted panels or tiles, these setups require specialized installation skills and structures that can require ballast and/or can puncture your existing roof with lag bolts. This could disrupt the waterproofing of your roof, possibly degrading your roof quicker. Plus, the smaller form factor of the Timberline Solar Energy Shingle™, as compared to a solar panel, allows for installation on more complex roof shapes such as dormers or hipped roofs.
Are solar panels worth the investment?
With a net-metering agreement, surplus energy generated by your solar system is fed back into the power grid. A surplus results when you generate more solar energy than you use within a given timeframe (i.e., your monthly billing cycle).
The value of this energy, governed by your local net metering policies, is typically treated as a credit to your bill and can be managed in several ways. Depending on the state, the value may roll over month-to-month. In other areas, that amount may be credited quarterly or annually.
If you're wondering if installing solar is worth it, contact us today. A GAF energy consultant can work with you to help you understand your local utility net metering rules and regulations. Let us make going solar easy, so you can start saving money now.
Why are GAF Energy Solar Roofs my best option for solar?
Timberline Solar, integrated solar roofing from GAF Energy, is the first true solar roof. It incorporates solar technology into traditional roofing materials and processes. It uses the world's first nailable solar shingle, which lays flush against the roof deck, providing great durability and protection. With constant utility rate inflation, Timberline Solar was designed to be an affordable solar roofing option. If you're using solar to power your home in lieu of electricity from the grid, your energy prices may be lower. This all means that your Timberline Solar roof could save you money, allowing those savings to offset the cost of your new roof over time. And with solar roofing becoming more popular, it could even benefit your home resale value.

No Comments Yet
Let us know what you think