How To File a Roof Insurance Claim [With Downloadable Checklist]
by Michael Wilhelm on Dec 6, 2022 5:35:13 PM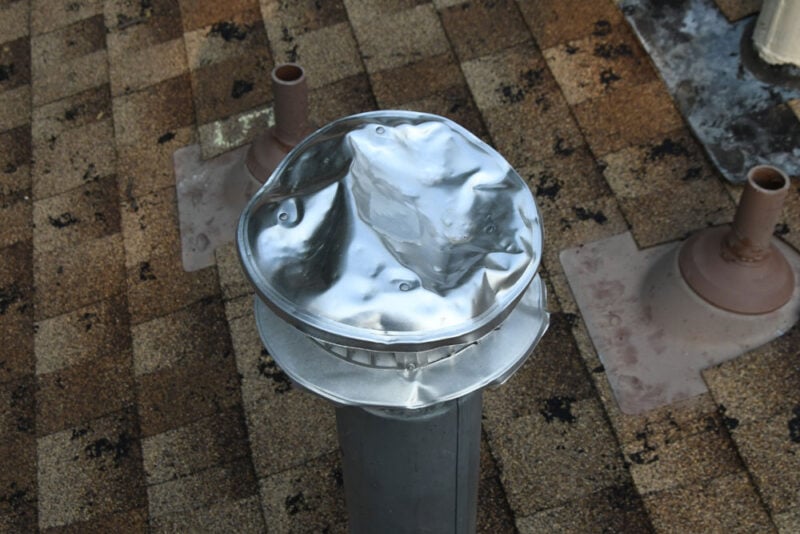 Your homeowner's insurance protects your home against extreme weather and other emergencies, but it is challenging to know how or when to start a roof insurance claim. The insurance process is confusing, and often it's hard to know where to start. We're here to help guide you through the roof insurance claim process and answer the questions you may have.
Since 1979, Holladay Grace has helped homeowners in the Colorado Springs and greater Pikes Peak Region understand roof insurance claims. This article will answer various questions regarding the roof insurance claim process and what to expect if a storm has damaged your roof.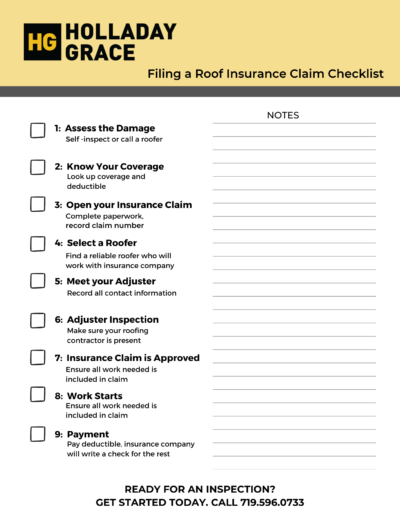 Click the Image to Download Your Roof Insurance Claim Checklist
9 Simple Steps to Filing a Roof Insurance Claim
1: Assess the Damage
2: Know Your Coverage
3: Open Your Roof Insurance Claim
4: Select a Roofing Contractor
5: Meet Your Adjuster
6: Adjuster Inspection
7: Roof Insurance Claim Approval
8: Work Starts
9: Insurance Payment
1: Assess the Damage
Before contacting your insurance provider, you'll need to determine the type and severity of damage to your roof. To resolve this, you have two options: self-inspection or professional inspection.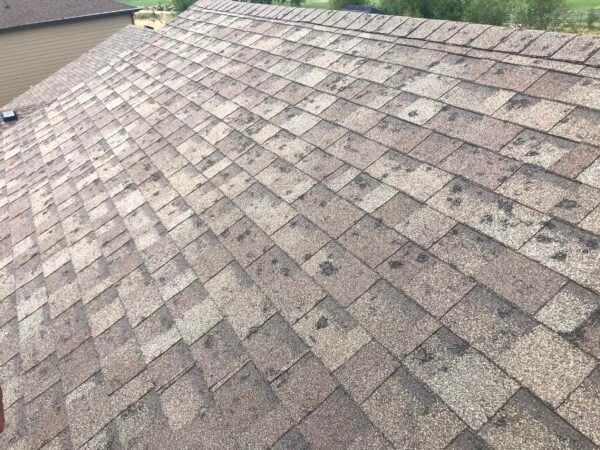 Survey Your Roof for Signs of Damage from a Weather Event
Self-inspection
You can climb up on your roof to inspect it yourself, although we don't recommend this for safety concerns. Knowing what type of damage and what to look for can be difficult, so read on to learn about the different kinds of roof damage, and remember to take plenty of photos during your inspection.
Professional inspection
On the other hand, most roofing companies offer free inspections and usually provide you with a detailed inspection report. You can search online for a reputable roofing contractor local to your area to complete the inspection. Be sure to ask what information and photos they will provide after the inspection.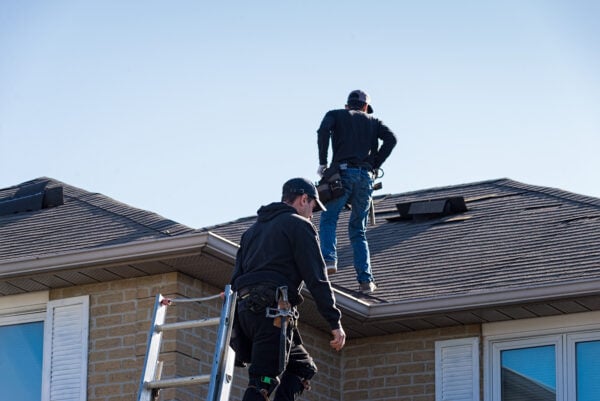 Professional Inspection by a Roofing Contractor
Regardless of the path you choose, it's important to get detailed pictures of the locations of any damage and how much damage occurred. This information will help when you call your insurance company to begin your roof insurance claim.
Types of Damage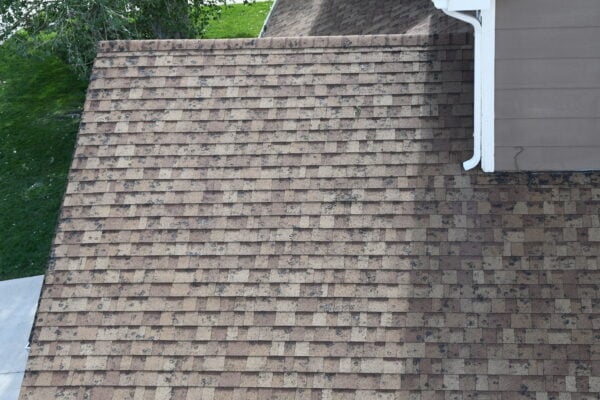 Asphalt Shingle Roof Damaged from a Hail Storm
Hail damage impacts the roofing system's integrity and significantly shortens the roof's lifespan. More often than not, hail damage can lead to a complete roof replacement. Hail damage is sometimes easily seen (as shown in the photo above); other times, it's more challenging to spot. Generally, if the hail is large enough (Quarter size or bigger), there's a good chance you'll see marks on your shingles.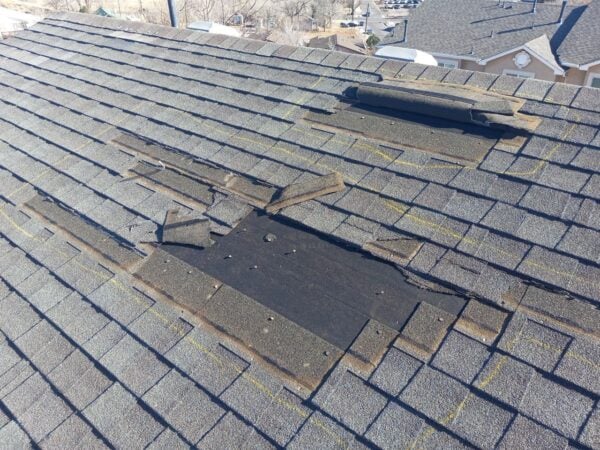 Asphalt Shingle Roof Damaged From a Wind Storm
You can spot wind damage to your roof in a few different ways. If your roof is visible from your yard or driveway, look for spots with missing or creased shingles (as shown in the photo above). Additionally, if you find shingles or pieces of shingles in your yard that match the color of your roof, chances are they came off your roof, and the exposed portion is prone to leak.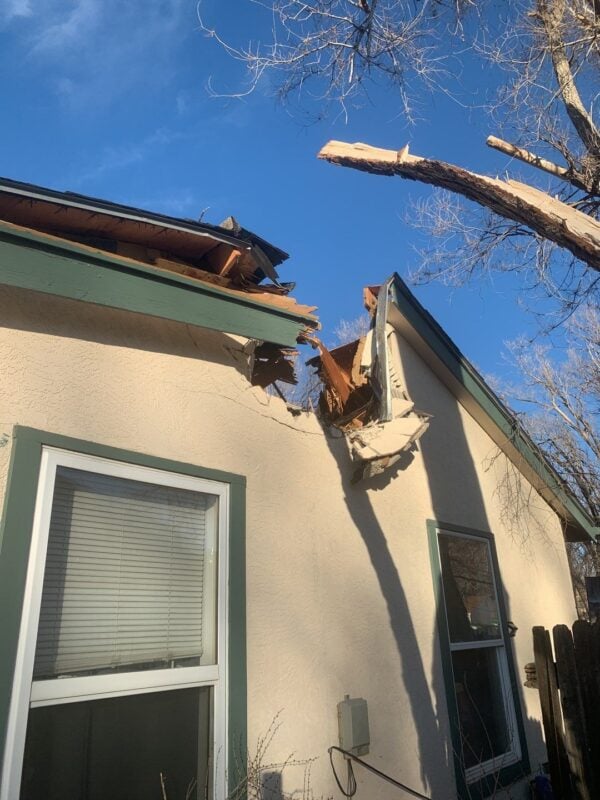 Roof Destruction Caused by a Falling Tree During a Severe Weather Event
Falling debris or falling trees can cause significant damage to your roof. Typically, this is one of the easiest kinds of damage to see or hear. If you are home during a storm and something of significant size hits your roof, you'll likely hear it. After it's safe to go outside, we recommend you walk around your home and look for fallen debris that may have hit your roof.
2: Know Your Insurance Coverage
Next, you need to contact your insurance agent or look up your plan details online to find out what your homeowner's insurance covers. You'll want to confirm the following:
What damage is covered

Your deductible amount

What information and forms are needed to open a claim

How to open your insurance claim
3: Open Your Roof Insurance Claim
Then you'll open your claim by submitting all required information to your insurance company. Most of the time, you can email the information to your insurance company. After completing this, an insurance adjuster gets assigned to your claim.
4: Select a Roofing Contractor
It's a good idea to select a roofer before your adjuster inspection so the roofer can attend the adjuster's inspection. Sometimes insurance adjusters aren't aware of all the components that go into a roof. Sometimes they leave line items out of the estimate, which needs to be added later as a supplement. Having a roofer onsite during the adjuster's inspection helps ensure that the roofer and insurance adjuster agree on the damage and what needs to be repaired or replaced. To learn more about selecting the right roofer, read our guide on How to Compare Roof Contractors.
5: Meet Your Insurance Claim Adjuster
Once an adjuster gets assigned to your claim, they'll reach out to confirm that they're your point of contact. Get your adjuster's name, phone number, and email address. Keep in mind your adjuster is there to help you each step of the way.
6: Insurance Claim Adjuster Inspection
Your adjuster will inspect the roof to confirm the information stated in the claim is correct. The adjuster will mark your roof with chalk and take photos of their markings for the claim file (as shown below). Remember, it's wise to have your roofing contractor onsite during this process to discuss the necessary repairs or replacements with your insurance adjuster. Having an expert present will help answer any questions from the adjuster and ensure that all parties understand what work will be completed.

Roof Insurance Claim Adjuster's Inspection Markings on a Damaged Roof
7: Roof Insurance Claim Approval
After your roof insurance claim gets approved, follow these steps to get the job started:
Get the estimate from the adjuster

Share the insurance estimate with your preferred roofing contractor

Have your roofing contractor contact the insurance adjuster to discuss the scope of the roof project

If the adjuster missed items on the insurance estimate, the contractor would need to provide documentation to have items added to the claim (this is called a pre-job supplement)
8: Work Starts
With your roofing contractor chosen and the contract signed, work can now begin. Your roofing contractor should work closely with you on project coordination. Here are a few questions you'll want to get answers to:
How long will the work take?

How do I prepare my home for the project?

Do I need to leave while the contractors are working?

What happens if I get a flat tire from a nail or screw?

How can I expect the cleanup to go?

What steps should I take if I notice any issues after work gets completed?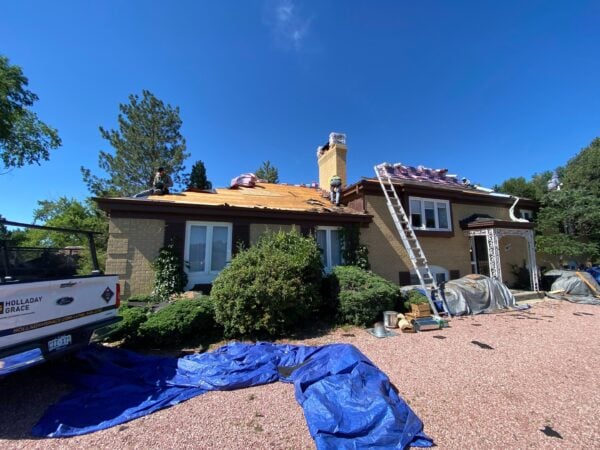 Work Beginning After Insurance Claim is Approved
9: Insurance Payment: How Roof Insurance Payments Work
It's essential to know how your insurance provider will release the funds to you before paying the contractor. Typically, roofing companies don't seek payment directly from the insurance company. Remember you are a mutual client of your insurance company and roofing contractor. Since the roofing contractor doesn't work for the insurance company, it's your responsibility to pay them.
Your insurance company will release payment to you. Typically, it works like this:
You'll receive a check for the Actual Cash Value (ACV) of your roof, minus your deductible from your insurance provider

Use the ACV check plus your deductible amount to pay the down payment to your contractor

Note: It is illegal for your roofing contractor to waive the deductible. You must pay the contractor this fee.

Once the project is complete, you'll give your insurance company the invoice from your roofing contractor

The insurance company will provide you with a check for the Recoverable Depreciation.

Your

Deductible

plus the

Actual Cash Value

plus the

Recoverable Depreciation

EQUALS the total claim amount, known as the

Recoverable Cash Value (RCV)

of the project.
Things to Consider when Filing an Insurance Claim
This process may seem streamlined, but it can take a long time and get slowed by any number of issues. Here's a quick list of some common problems you may encounter in the insurance claim process:
Some insurance and roofing companies are not entirely in your corner:
Insurance Companies
As you are probably aware, when insurance companies are involved, things always need to be clarified and sometimes take longer than they should. Keep in mind not all insurance companies are always looking out for your best interests. Obviously, not all companies are like this, but some may put the bottom line before your needs as a customer.
Roofing Companies
Roofing Contractors have a bad reputation, and we are here to bring professionalism to the industry. You may have heard stories of roofing contractors making customers enter into a contract to complete the work before their claim is approved and require payment, leaving town with your money and no work complete. That's why it's essential to choose a reputable roofing company that you trust will complete the job to your satisfaction. To learn more, visit How to compare roofing contractors.
Choose a Roofing Contractor with Your Best Interest in Mind
With your best interest in mind, roofing contractors do their best to ensure the project proceeds at the pace you want and is completed successfully and on budget. They're also open to working with your insurance company and within your policy's limits.
Your Claim is in the Hands of Your Adjuster
Regardless of how much help you may receive, the approval of the claim is still on the shoulders of your insurance adjuster and the insurance company. Depending on their workload, your adjuster may not actively work on your claim, often pushing the approval time out further. When you get approval from your adjuster, it is essential to make sure you read over all documents they provide to ensure that they are correct.
What to do with Your Damaged Roof While Awaiting Claim Approval
If your damaged roof is not leaking, you are lucky; you don't need to do anything. However, if you have leaks, you need to have your roofing contractor perform temporary repairs. These temporary repairs should be included in your claim.
Claim Denial is not the End.
If your claim gets denied due to a mistake, don't worry. You can take these steps to try to get the claim approved:
Have the claim double and triple-checked.

Ask for a second adjuster to come out and inspect your roof to try to approve the claim.

Ask your roofing contractor to connect you with a Public Adjuster.

Public Adjusters work on behalf of homeowners and ensure that insurance adjusters are not taking advantage of homeowners. Public Adjusters can look into your policy documents (something roofing contractors cannot do).
Find the Right Roofing Contractor for You
Now that you've learned the basics of filing an insurance claim, it's time to find a reputable contractor that can help you assess the damage and stand in your corner throughout the claims process. Check out our guide, How to Compare Roofing Contractors, so you're equipped with everything you need to know to hire the right company.
Since 1979, Holladay Grace has handled every project as if it were our home. Contact us for all your roofing needs if you're local to the Colorado Springs community.
Frequently Asked Questions:
Am I covered? And if so, what is covered, and how much will it cost me?
Call your insurance company to learn more about your coverage and deductible. They can also tell you what is needed to begin a claim.
What is my role vs. my insurance company's role?
As a homeowner, you manage the insurance company adjuster and work with a reputable roofing company to get the job done. It's the insurance company's role to verify your claim and to pay for the roof (if covered)

Remember, you must be your own advocate. Ask all the questions you need to be answered. You are the insurance company's client, and you will be able to have different conversations with your insurance company than a roofing contractor can.
What is my insurance company's role vs. my roofer's role?
The insurance company needs to verify that your claim is valid.

The roofer's role is to help with that verification process by being present at the adjuster's roof inspection and advocating for you to ensure the insurance company will cover all the repairs/replacements needed.
Do I have to use a vendor that my insurance company recommends?
No

, you are allowed to use any roofing contractor you would like. This is your one chance to get the BEST roofing contractor for the same price, your deductible.
Does the insurance company pay the roofer directly, or do I have to front the money?
When filing the claim, ask your insurance company how payment gets completed. All policies are different. Typically, insurance companies release funds to homeowners then homeowners pay contractors with those funds.
What happens to my premium if I file a claim?
You will need to check with your insurance agent, as all policies and companies vary. Typically, if a significant weather event happens in your area, all premiums will increase regardless of whether you filed a claim. It is never a good idea to not file a claim for fear of premiums increasing.
At what cost/level of repair is it worthwhile to file an insurance claim vs. pay for it myself?
You need to weigh the cost of repair with the cost of your deductible. Generally, if the price to repair exceeds your deductible, filing a claim and having your insurance cover the cost is a good idea.
No Comments Yet
Let us know what you think