COLORADO SPRINGS COMMERCIAL ROOFING SERVICES
Expert Commercial Roofing Services for Your Colorado Springs Business
High Quality Work at a Fair Price
As one of the top 2% of all roofing contractors in the nation, Holladay Grace installs roofs with the finest craftsmanship at a fair price.
Reliable Material You Can Trust
You deserve the best quality materials for your new roof. Holladay Grace is qualified and certified to install the top of the line materials in the industry.
Personalized Service, Every Step of the Way
We understand every project is different. The Holladay Grace team will work with you to ensure we meet your expectations throughout your entire project.
Proven Industry Experts
Over the past 43 years, we have seen just about every roof problem. With Holladay Grace, you can rest assured we have the correct solution for your problem.
Which Roof Replacement Service Do You Need?
There are many options to choose from when considering a new roof. Are you looking to replace your existing roof with a similar product or are you looking to go with a different roofing system? Read below to see common options for commercial roofing systems.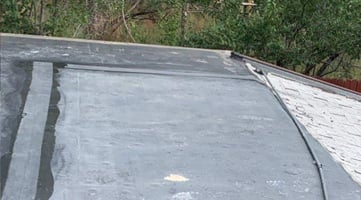 Our roofing repair team have over 100 years of collective experience and will be able to diagnose and fix any needed repairs that your commercial roof may need.
TPO and EPDM roofing systems are most common among low slope and flat roofed commercial buildings due to current building code requirements. TPO and EPDM provide a superior weather barrier than standard shingles at shallower roof slopes.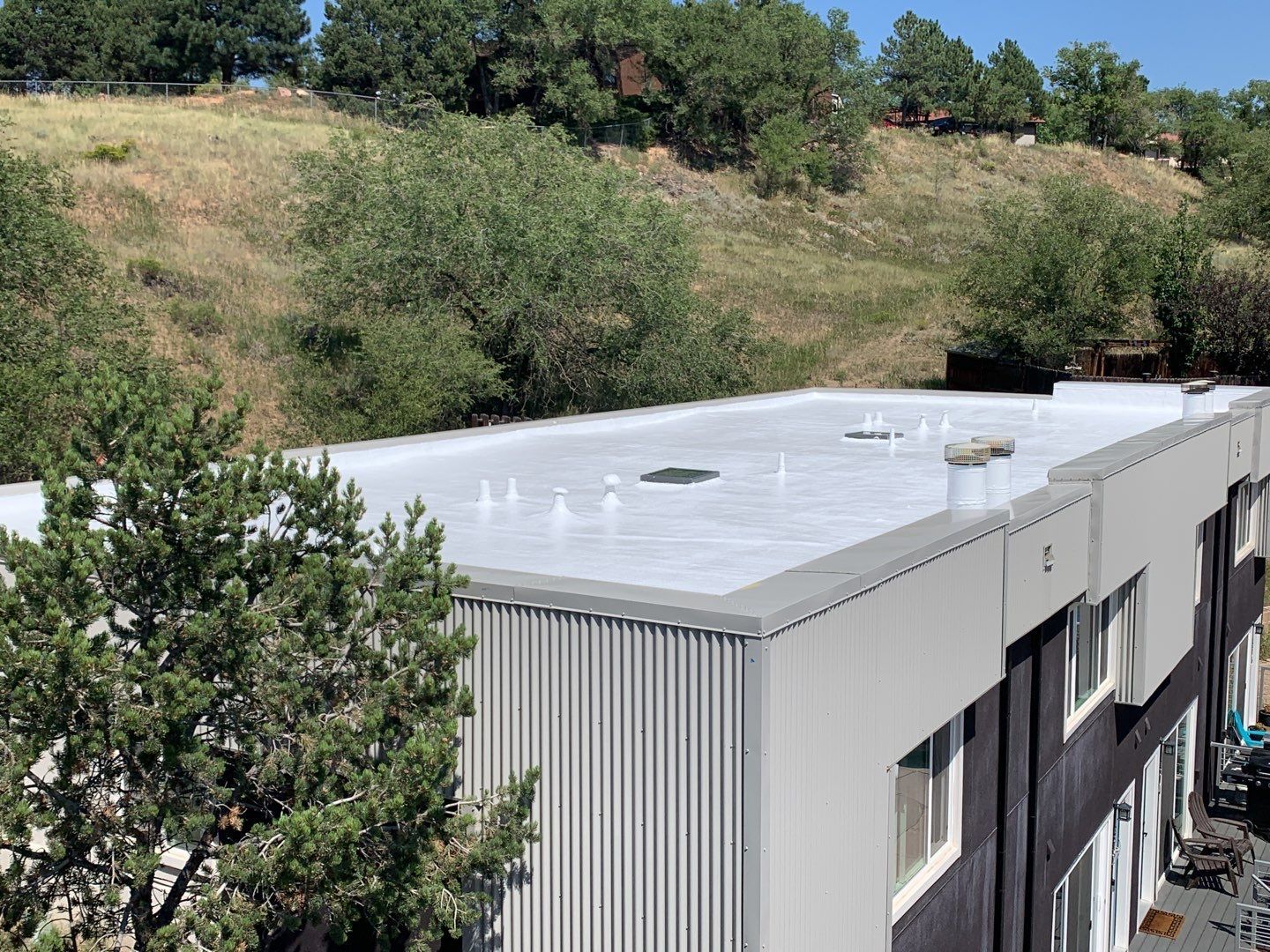 Spray Polyurethane Foam, more commonly referred to as SPF, is a material sprayed as a liquid so it can expand into a foam, creating a solid layer across an existing roof.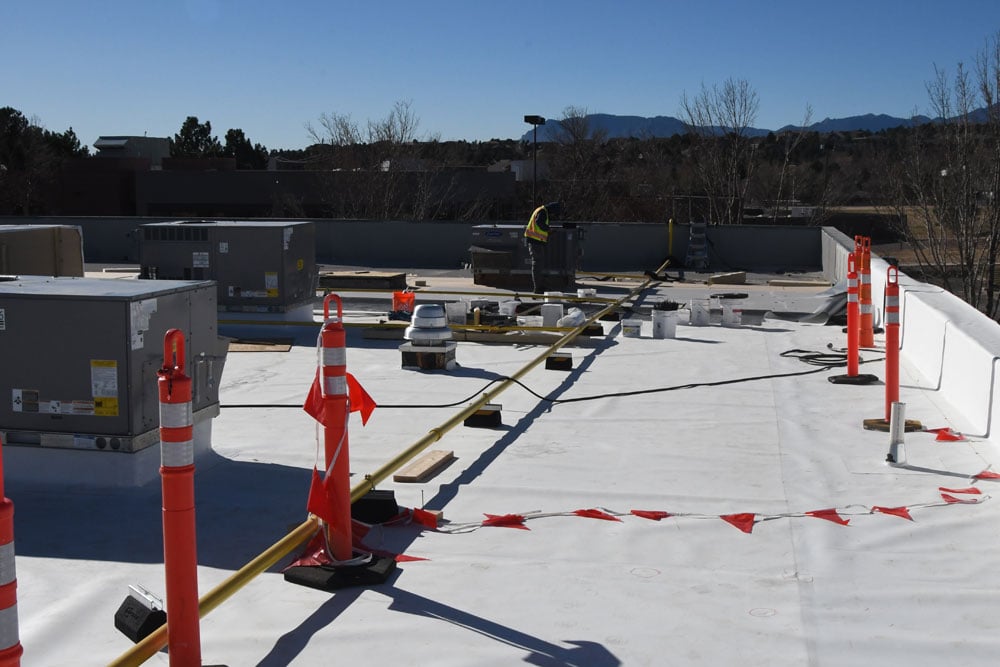 Your commercial roof protects more than just your property
Holladay Grace understands that a roof on your commercial property protects more than just your investment, but the investment of your tenants as well. Over our 43 years in business, we have helped commercial property owners protect more than just their investments.
Why choose Holladay Grace
Family Owned and Operated
HG has been family owned for decades. We believe in being stewards of our Colorado communities by participating in, and financially supporting numerous local organizations and non-profits where we do business.
Family Owned and Operated
Superior Project Management
Through decades of experience, we understand and know how to manage all types of projects regardless of complexity.
Superior Project Management
Best-in-Class Quality Control
HG has a proprietary Quality Control System to ensure our work is done right the first time.
Best-in-Class Quality Control
Long-Term Accountability
HG has been in business since 1979, and we stand by our work.
Long-Term Accountability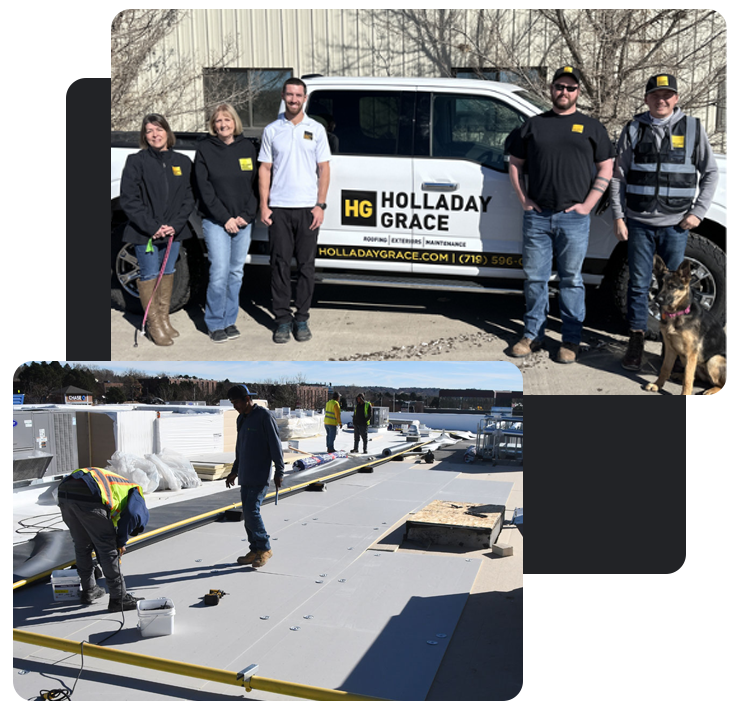 We're Here for All Your Roof Repair Needs
Get an Inspection
Start by scheduling an inspection with one of our expert team members. They will complete a comprehensive inspection and explain the findings.
Get an Inspection
Choose Your Solution
your roof may simply need a small repair, or it may need to be replaced. Regardless of what course of action you wish to take, the Holladay Grace team will be there to help explain the pros and cons of each.
Choose Your Solution
Feel Confident in Your Roof
Holladay Grace stands behind the products and craftsmanship of every roof we work on so you can rest easy knowing you have a quality roof over your head.
Feel Confident in Your Roof
PROUDLY SERVING COLORADO'S FRONT RANGE WITH EXPERT ROOF REPLACEMENTS SINCE 1979
"I wanted to pass along my sincere thanks for taking care of the bubble on one of our flat roofs. The two gents you sent to complete the work were very courteous and efficient and the repair is beautiful!

All along, your customer service has been nothing short of exceptional and I wanted you to know that it is very much appreciated.

We are very grateful for your efforts and your diligence to make things right and wanted to let you know."
"Excellent service. Responsive to getting a bid. The bid was very competitive. Communication was timely and accurate. The roof was done on time. The work was quality and they crew left the yard as they found it."
"I have been watching the concrete workers all day and talking back-and-forth with them and they are amazing. They got so much work done, I'm thrilled. Super nice guys, super work driven. Thank you for providing such wonderful work and customer service."
"Whenever I need any type of home repair, roofing, windows, etc, I always call Holladay Grace. I have used them for over 11 years and will continue to do so."
"I've work with Chad and Roger and their crew for many years and have nothing but good things to say. It's a tough business and you have to work with some interesting employees who are brave enough to get so high up to work every day! Either way, they do great work, they honor their warranties and go the extra mile. Highly recommended."
"Prompt bid, fair price, quick scheduling, fast and very nice crew, left the place spotless. What more could you want? This will be my go-to company if I ever need roofing in the future."
"We worked with Justus getting everything set up. It was all very smooth and easy process! The guys came out and we're done in the afternoon! They worked very quick and did a great job! Very satisfied!"
"These guys are great. If you want excellent service, just ask for Justus Whipkey. He is extremely polite, professional and he gets things done when he says he will. Example: I asked for something to be done Monday morning, he has it done at 8am Monday. Excellent. Ask for him!"
"Justus was wonderful at educating us on the levels of roofing and installation. Although the crew left materials & a bit of a mess behind, and nicked our siding in several places, overall, we are happy with the new roof we received."
"Two new roofs after two major hail storms. Used Holladay Grace both times under two different owners. Both times they provided the paperwork and estimates needed for our insurance in a timely manner. Everyone we came in contact with from the office workers to the service department were pleasant and professional. Had a few follow-up items that were taken care of quickly. Highly recommend."
"AWESOME!! After a late summer hail storm, we thought our roof might have sustained a lot of damage so we called Holladay Grace Roofing (HGR) for their review. They had done some work for us previously when we first moved into our house in 2001. Then they were prompt, courteous and they fixed our few issues so I didn't hesitate to call them again 18 years later!"
"I used Holladay Grace on a large townhome community and they did an excellent job on completing all of the repairs from the 2018 hail storms. ($1.2 M claim) They are incredibly responsive and always took care of any concerns that were brought to them. I will definitely be recommending them for my next large project."
SCHEDULE YOUR INSPECTION TODAY
Your home is your castle and we're here to help you protect everything inside. Whether your home was just hit by hail or you notice older damage, Holladay Grace will help you diagnose and remedy the problem.
Curious about your roof's condition? Holladay Grace provides free roof consultations and inspections to identify any problems or simply give you peace of mind. Fill out the inquiry form or call us today.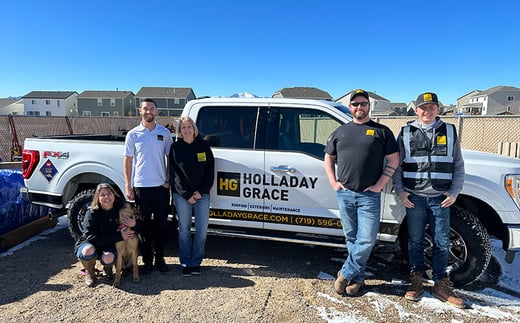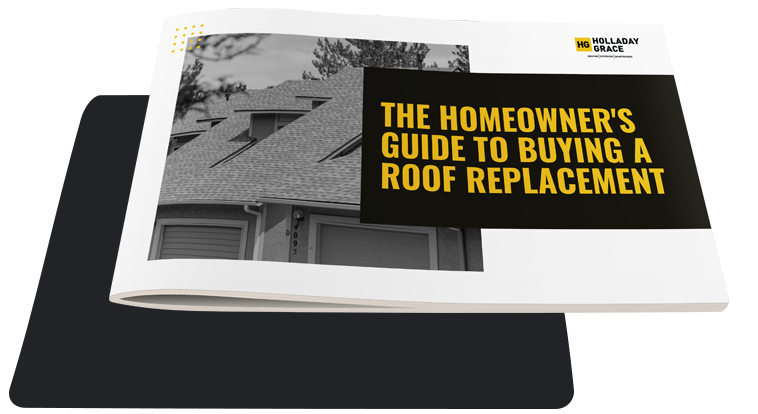 FREE DOWNLOAD
THE HOMEOWNER'S GUIDE TO BUYING A ROOF REPLACEMENT
Buying a new roof can be very daunting, not only because of the cost but also because of the many factors in the buying process. Holladay Grace has created this guide to help you make the best purchasing decision for your home.