How to Compare Roofing Contractors
by Michael Wilhelm on Dec 2, 2022 9:08:21 AM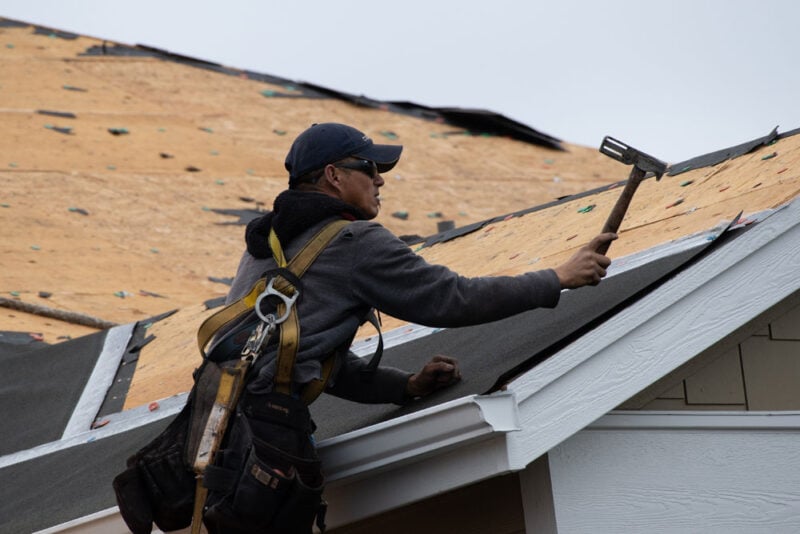 There are hundreds of roofing contractors to compare in the Colorado Springs area, making it difficult to know where to start when you need a new roof.
We are here to help you find the right roofer for your project.
Finding the right roofing contractor can be a process, but if you focus on asking a few key questions, you will be able to find the right roofer for your home and feel confident with your decision.
How To Compare Roofing Contractors
When comparing roofing contractors, there are several considerations you can research on each company to help you find the right contractor.
9 things to consider when comparing roofing contractors
Track the answers and evaluate your roofing contractor options
Download this Roofer Comparison Worksheet to help track each roofing contractor you research.
Once complete, you will have a full picture of three roofers to select from and can make an educated decision on the best roofing contractor for your project.
Read on to learn more about the important questions you should research while searching for the right roofing contractor.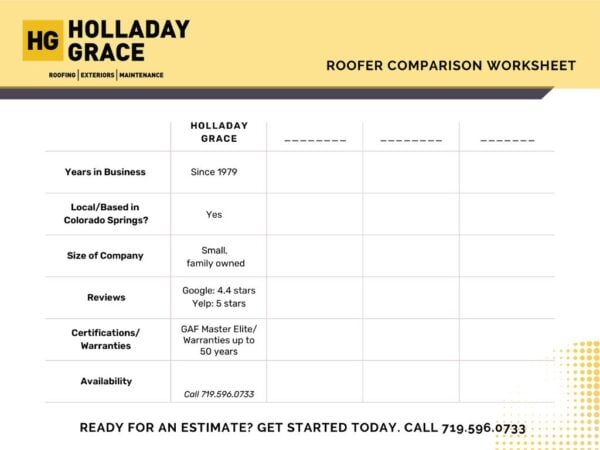 Download Your Roofer Comparison Worksheet
Questions To Ask Potential Roofing Contractors
How Long Has The Company Been In Business?
An important factor to consider when comparing roofing contractors for your new roof is to look at how long the company has been in business. We think a company that's 10 years old is a good minimum criterion.
Some benefits of working with a company that has been around for more than 10 years are that they:
Have completed a wide range of work and are more likely to be knowledgeable on a variety of different roofing solutions

Are well-versed in common roofing problems and solutions

Have multiple references from past customers to vouch for their work

Are more reliable in terms of sticking around for the long term and being able to fix problems that may arise down the road

Have likely experienced booms and busts in the industry and were able to be successful during both
When considering a newer company, keep in mind that they:
Are more likely to take on work that they have little to no experience with

May not be as stable as an older company, introducing risk for the future

May not have a deep track record for customer references
Statistically, new roofing companies have a high failure rate; it's not certain they will stay in business to guarantee warranties. In his book, Markup & Profit: A Contractor's Guide, Michael C. Stone writes that within the first year of business, 30% of all new construction-related businesses fail. He says between 90 to 96 percent fail within a 10-year business cycle.
The biggest risk of choosing a new company is the failure rate. You want to choose a roofing company with a proven track record and will be around for years to come to ensure your roof's warranty.
Visit the Better Business Bureau's site to learn how many years a roofing contractor has been in business. Simply type in the company name to learn: years in business, location, business rating, and more.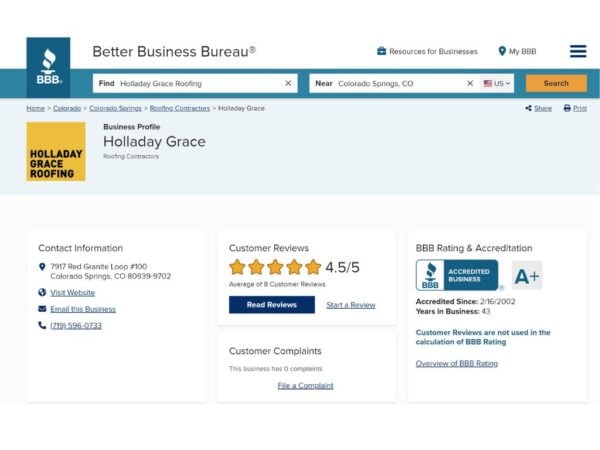 Example of Holladay Grace's BBB rating page, showing 43 years in business.
Local Vs. Non-Local
Another factor to consider is whether a roofing contractor is locally owned and operated. We strongly encourage you to prioritize local companies for several reasons.
A local roofing company should:
Be more responsive and available to fix issues if they arise, simply because they are located in your city

Be a short drive away from your home and can tend to your issue much faster than a company located hours away. Weather issues can cause roofing issues, and a local company can make it to your home much faster.

Be much more familiar with local building codes and any code changes. This will ensure that your roof work gets done quicker and with fewer roadblocks.
Finally, choosing a local company helps support your local community, creating jobs and putting dollars back into the local economy – which is beneficial for everyone.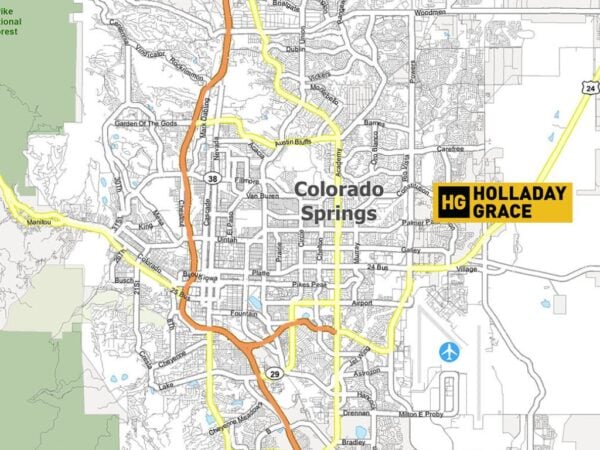 Colorado Springs, CO, where Holladay Grace is owned and operated.
Size Of Company/Crews
Company size is an important factor to consider when looking you compare roofing contractors. There are positives and negatives to working with both small and large companies. The size of a company can affect employee caliber, customer service, and crew size.
Employee Caliber
Smaller companies usually have fewer employees, which can have good effects during a project. Small companies have fewer employees that provide a higher quality of work. However, during heavy workloads, the work may pile up and create long lead times. Larger companies can employ larger staff lead times so work can start much faster.
Customer Service
A good way to tell if you will get good customer service is to reach out to the company. How quickly do they respond? If an email or a phone call is answered in a timely and friendly manner, that's a good sign that the company is customer service-focused. If you call the company and cannot speak to someone in the office or keep getting routed to automated systems, this may be a red flag.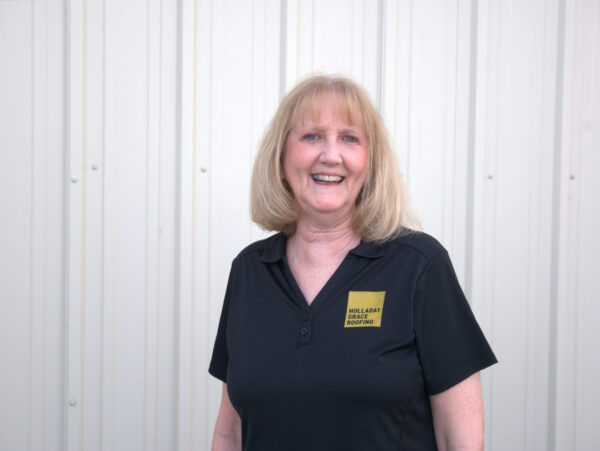 Customer service pro, Wendy – 26 years of smiles!
Crew Size
Smaller companies tend to have smaller crew sizes. Depending on your goals, you may be ok a smaller crew. This just means the project may last a few days longer. When talking to roofing companies, ask how many workers are in each crew and how many people will work on your roof. A larger company will tend to have larger crew sizes.
Reviews And Testimonials
Customer reviews and testimonials are always essential when comparing roofing contractors. Research is key when making a big decision, and one of the most important pieces of research is to look into customer reviews.
When Reading Reviews, Pay Attention To The Good AND Bad Reviews:
You will always find good and bad reviews regardless of how well or poorly the company did. Some people may have had excellent experiences with bad companies and poor experiences with good companies. The key is to weed out those outlier reviews and narrow down the ones that matter. Focus on genuine reviews by customers when doing your research.
Be wary of reviews that are oddly similar in their vocabulary; chances are those reviews are not genuine and should not be taken into account when deciding which contractor to choose.
Also, pay attention to if the roofing company responds to reviews. A responsive company will most likely be strong on customer service.
Google Reviews is a good place to start. Simply type the company name you are researching on Google and click "Google Reviews." Here is an example of what a google review for Holladay Grace looks like.

Example of an informative, positive Google review
You can also look for reviews on the Better Business Bureau's site. This is a great place to see if the company has any formal complaints against it and to learn the company's rating. Here is an example of the BBB rating for Holladay Grace.
Testimonials Are A Good Research Tool
Talking to friends and neighbors about their roofing contractor experiences will help you narrow your decision. If a neighbor or friend has recently had or is having their roof done, get their opinion on the company. Ask about the quality of work, project organization, site cleanliness, customer service, and value. Make sure their answers align with your expectations.
Review Sites And Directories
Additionally, other valuable resources for comparing roofing contractors are review sites and directories. Websites like GAF, This Old House, and the El Paso County Roofing Association often provide comprehensive reviews and testimonials from customers who have utilized the services of various roofing contractors. These platforms offer a wider range of perspectives and experiences, allowing you to gain a more comprehensive understanding of a contractor's reputation and performance. Reviews and testimonials found on these sites can provide valuable insights into the quality of work, customer service, project organization, site cleanliness, and overall value each contractor provides. Exploring these review sites can help you make a more informed decision when selecting a roofing contractor for your needs.
Manufacturer Certifications And Warranties
Manufacturers' warranties and certifications are important! Certifications vary by contractor and often determine the warranty that you, as the roof owner, are eligible for from the material manufacturer. For example, Holladay Grace carries a GAF Master Elite certification. That means that roofs installed by Holladay Grace can have better and more comprehensive warranties than those installed by companies with lower certifications. A breakdown of different warranty levels can be found on the GAF website. GAF Warranties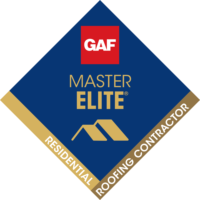 GAF Master Elite Badge (allows Contractor to provide enhanced warranties through the manufacturer)
Manufacturer Certifications Can Mean Cost Savings For You.
Companies that carry more certifications with manufacturers often have close relationships with their local manufacturer sales representatives, enabling better pricing than less certified companies. Additionally, if anything were to happen to your roof, companies with good relationships with their sales reps would be able to get the materials they need to fix roofs faster.
Website And Online Presence
A website and online presence can indicate the company is well-established. A company's website is a great place to do most of your research. Things to look for:
The services offered

Professional certifications held

Portfolio of work and customer testimonials

Contact info and the ability to request an estimate

Industry knowledge. For example, look for blog posts, consumer information about the trade, and updated content that is posted fairly frequently.

Overall web presence: Are they active on social media, and if so, are they posting knowledgeable and helpful content? Do they have positive or negative articles written about them? You want to look for an active online company that is proud of the outstanding work they are providing for its customers.
Transparent Pricing
To avoid any last-minute cost surprises, you'll want to select a company with transparent pricing policies. You want to understand exactly what you are paying for. Ensure your contractor is up-front about all the project's costs, including material, labor, fees, permits, and any miscellaneous costs associated with your project.
To learn what costs are associated with your new roof and get an idea of what your new roof might cost, check out our guide How Much Does a Roof Cost in 2023.
Additionally, you will want to understand how your contractor will handle change orders. Sometimes when roofs are torn off, decking or other items beneath the roof system are rotted, not up to code, and must be replaced. Ask your contractor about their change order process.
Experience With A Specific Type Of Roof Or Material
You will want to choose a contractor that has experience with jobs similar to yours. If you have a complex, high, steep roof, you want to ensure the contractor you choose has successfully completed similar jobs.
Additionally, you will want to verify that your roofer has experience installing the material you choose. Explore the contractor's website and online reviews to learn if they have experience with your type of roof and material. For more information on choosing the right type of material, read on at "Choosing the right type of roofing material for your home (working title)."
Availability To Start Your Project Within Your Desired Timeframe
When comparing contractors, make sure they have availability to complete your project within your desired timeframe. Remember that roofing contractors are typically busier in the summer, but re-roofs can be completed any time of year as long as the temperature is 40 degrees and rising. Generally, Holladay Grace can re-roof any time of year.
Next Steps
Knowing the right questions to ask and things to research when you are shopping for a roofing company will help you narrow your choices down quickly and efficiently.
Once you have a short list of 2 or 3 contractors, you are ready to schedule an inspection.
Since 1979, Holladay Grace has handled every project as if it were our own home. If you're local to the Colorado Springs community, we would love to help you with all of your roofing needs.
No Comments Yet
Let us know what you think